Alright, running friends. What do you do when you wake up bright and early on a Saturday morning for your weekly long run and find with dismay that you've let the battery die in your trusty Garmin?
Well, the first thing I did was put a reminder in my iPhone for every Friday night going forward to check my watch battery. I'm not letting that happen again.
And then I laced up and ran out the door anyway. I figured I'd been given a gift - a non-rainy Saturday morning where I otherwise felt great couldn't be wasted.
St. Pete Run Fest
will be here before I know it, so I figured I'd train using Rate of Perceived Exertion. But using RPE doesn't always work out for me when trying to stay in my target heart rate, and it certainly didn't help that it quickly got to be hotter than balls by 8am.
Call the police and the firemen.
Ah well. Still glad I got out there... because I finally solved a mystery that has been bothering me for almost a year now.
At this time last year
, I ran into some kind of race happening put on by the Florida Ultra Runners but could find no mention of what they were up to online. So when I saw them again this weekend, I worked up the nerve to actually
ask
one of the runners what was going on.
The event was something called the "Durty(sp) Beer Run," an annual 6-hour run that takes place along a 3 mile-ish loop in downtown St. Pete from 6am to 12 noon. St. Pete is pretty packed with microbreweries, so I suppose it makes a good destination for that kind of run but... no thanks, I'll pass. It was 8 million degrees on Saturday. I'm only slightly exaggerating. I wonder how many people died that day.
Yet that wasn't the only event taking place on Saturday! They were also setting up for something called
the Great Brain Wash
, which looked much more appealing. This 5k included inflatable obstacles that were similar to giant slip-n-slides, and the race supported brain tumor research. I would have totally crashed the course, but they hadn't started yet, so I just walked my sweaty self home.
My Disney Annual Passes came out of blockout this week, so my husband and I went back to Animal Kingdom yesterday for the first time in over two months.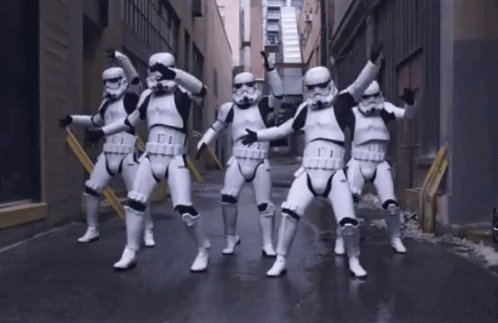 When our Disney Annual Passes come out of blockout, Ben and I be like...
Also, still going strong with my
puritanical devotion to healthy eating
, having no difficulty navigating a day at Disney yesterday food-wise whatsoever. I will share that I have begun picking up tracking my food in MyFitnessPal again, because I do believe I may be falling into the trap of undereating. I would rather err on the side of having a little bit more food than I need right now to kill any future possible binge urges while I've got the support of medication on my side, rather than be sucked back into the same dangerous cycle the minute I stop meds. Like I said in my initial post on the subject, it's all about developing the right habits for me right now.