Today's the first day in a while that I've gone back to the park I had been running at - you know, the one with all of the
cute baby animals
and
otters
and stuff I've been enjoying so much? One day a few weeks ago, I woke up for a planned run at the park and just felt the urge to go running down by the bay instead. If you know me, you know I don't stray from plans all that often, but I'm so glad I did. When I got home that day, my "Nextdoor" app (if you don't have it, it's similar to Facebook, but specifically for your community) was blowing up with notifications about a dead body at the park. The park isn't that big, about a 1.10 mile loop around, which is why it's so popular with walkers and runners first thing in the morning and another reason I enjoyed it for training (besides the nature show). Police had arrived at the scene, and there was no foul play suspected. But... I'm not sure how I would have handled coming across a suicide on my run. No matter how hard things get, there's always gotta be a reason to live.
So I wanted to take a moment to share how important it is to take care of your mental health, guys. I've downplayed the role that doctors and psychologists have played in my own well-being in this blog, but that's because I'm a big, fat know-it-all sometimes. When really...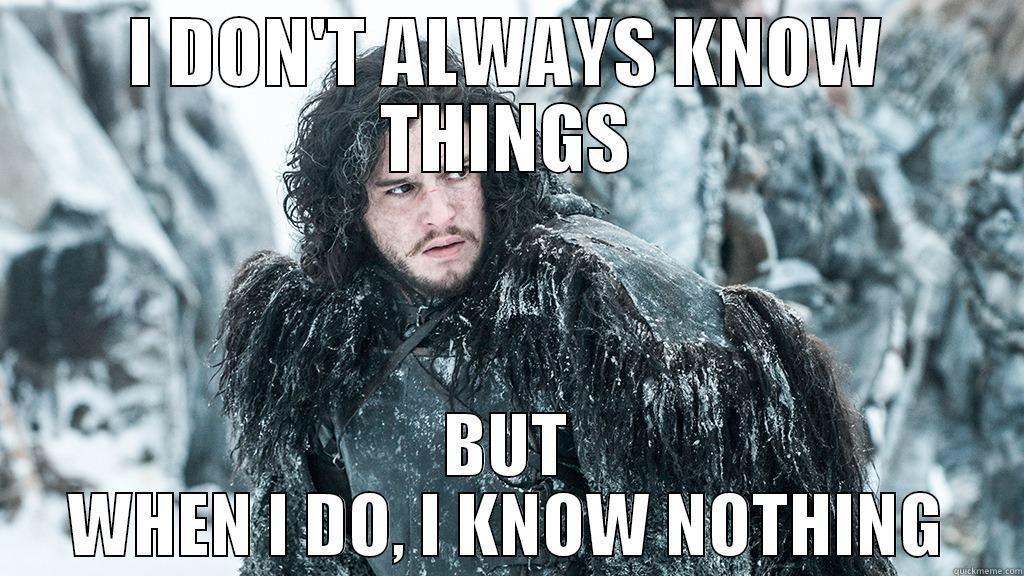 I also know nothing, Jon Snow.
So seriously... if you're ever feeling hopeless or know someone in crisis,
start here
and don't be afraid to look into help from a therapist.
Ok. That's enough heavy for one day. I need something more uplifting, don't you? Let's see what I've got... how many baby ducklings can you count in this photo I took at the park today?
There were fifteen, people. Some sitting behind mama there. Or maybe she's auntie to some, who knows. I wasn't aware ducks were allowed to have that many children.
So I've been hesitant to go back to running in the park for a while, but finally got out there today, only to run straight into an orange fence:
This is misleading.
This presented the illusion that I could still complete a loop - but instead of it being 1.10 miles, perhaps it would take me on a short detour. Maybe it would be 1.35 miles. I didn't care, as long as it was some kind of loop around the lake.
So I took the path to the right of the sign, only to dead end into that yellow Caterpillar you see right behind it. Foiled!
The only thing to do was to end my run, go home, and go back to bed.
I kid. If
I can run Garmin-free
, I can certainly adjust my running route mid-run, especially since I had a working GPS watch/heart rate monitor today. I just detoured back down towards the bay and did a new 5-mile route that took me through a few pretty new streets. Yay for flexibility.